When life gets difficult, we're here to help 
Life has many ups and downs and sometimes you may need help to cope with challenges. If your arm was broken, you would go to a doctor for help. If your mind hurts, a doctor can help, too. In both cases, it is always better to get treatment earlier than later so that things don't get worse.  
 
Get the help you need in a convenient, confidential, safe and non-judgmental environment. Your program provides in-person and virtual therapy options through a national network of licensed professionals trained to help with many challenges including stress, anxiety, grief, marital/family relationship concerns, parenting, substance misuse and more. Counseling will help you understand issues, learn coping skills and develop solutions. 
 
Key features 
No cost to you and your household members

 

Up to @@CLIENT_SESSIONS@@ pre-paid counseling sessions

 

Confidential and provided by third party

 

Counseling in-person or through virtual therapy. Virtual therapy includes meeting through text messaging, live chat, by phone or video conference

 
How to find care  
For in person counseling: 
Click 

here

 to access the online provider search. Note search filters include location, specialty, gender, ability to provide video conferencing and more.

 

When you've found a provider, complete the "online self-referral" form next to the search result.

 

After you submit the form, you will receive an email with the counselor's contact information and a MAT number. Contact the provider to schedule an appointment and include the MAT number.

 
For virtual therapy: 
Call your program phone number @@CLIENT_PHONE_NUMBER@@. A clinician will ask 

you

 questions to understand your unique situation and, if appropriate, refer you to 

BetterHelp

. The referral form will generate an email to you with a unique link to complete a questionnaire. 

 

You will complete the questionnaire and be matched with a provider. Typically, you can begin communicating with a provider within 24 hours of completing the questionnaire. 

 
Worksite EAP Offices  
If your worksite is not listed below, please call 1-866-580-9046 or TTY 1-800-635-2883 to be connected to a consultant. 
Richmond, VA

 

Ft. Belvoir, VA

 

Battle Creek, MI

 

New Cumberland, PA

 

Philadelphia, PA

 

Tracy, CA

 
Get started today!
Call @@CLIENT_PHONE_NUMBER@@
Need help?
Use the chat feature on the right side of your screen for assistance.
How does the counseling process work?
Therapy is a time-tested tool that helps people with a variety of issues including stress, anxiety, relationship problems, grief, trauma, substance abuse and self-exploration.
Learn More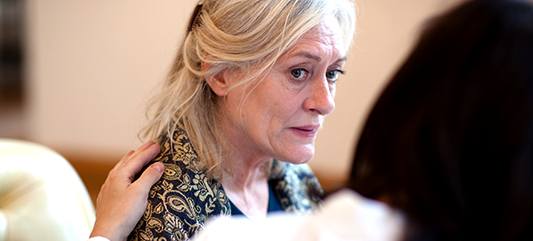 BetterHelp virtual therapy FAQs
Your program now offers virtual therapy options, provided by BetterHelp. Read these frequently asked questions and answers for more information on getting started with BetterHelp.
Learn More